9 months ago I put the first version of this website online. The idea at the time was I'd have the blog online, throw in a contact page and finish off adding the portfolio / home page at a later date.
Yup, that never happened.
The usual story of client work and procrastination got in the way of finishing it. Sometime in June I gave the layout a bit of a Facelift, but there was still no portfolio.
Get it shipped
I made a New Years resolution to get off my backside and sort it out. I couldn't write about this resolution of course as I had no blog I liked using to use (sorry, WordPress).
What you're seeing, assuming you're reading this in early 2012, is the new website I've been working on. As usual there's still some things to complete, but I really wanted to get it online so i could actually start using it.
What's changed?
The design is very similar but there's a few twists. There was a lot of experimenting with new techniques, programs and CMS systems, but now I feel I've settled on a combination that I like.
Symphony CMS
Notably I've decided to not use WordPress for once and instead opted for Symphony CMS. I'll no doubt write more about this decision and Symphony in a later post, but basically I really like it.
Markdown
Up until about 2 months ago I'd not heard of John Gruber's Markdown, now I notice it mentioned everywhere and its great.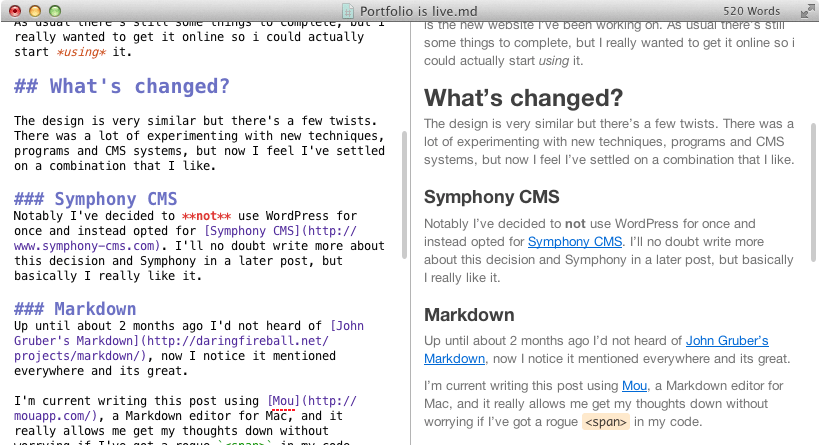 I'm current writing this post using Mou, a Markdown editor for Mac, and it really allows me get my thoughts down without worrying if I've got a rogue <span> in my code.
Fireworks
In addition to all this change/revolution I've recently been using Fireworks instead of Photoshop as my primary tool for web design. This is now the 3rd site that I've designed in Fireworks and I'm really enjoying it.
Photoshop still has many, many uses for me, but it's been mostly relegated to touching up individual images rather than designing entire layouts. Some might even agree this is exactly where it belongs.
Responsive
I've finally been getting clued up on responsive web design, too.
Sooo 2010 I know.
I'd read a lot, known why it is such a good idea, but never had the project or time to put it into practice until now.
Though I'm not quite there yet… I still have to do the actual media queries, I've built the site on a custom flexible grid using LESS, percentage based type and max-width images.
This will probably be the next thing I finish off in the coming days.
Summing up
I still have a few things to finish, and will do so over the next week, but I'm very happy to be properly online, with a portfolio to showcase my work and a blog I enjoy using to write about it.